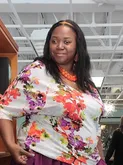 Tangela Francis
LCSW
Therapist
I am a Licensed Clinical Social Worker with 10 years of experience working as a qualified mental health professional. I've worked with clients exhibiting a wide range of concerns including depression, anxiety, relationship issues, parenting problems, and career challenges. I also experience seeing those who have experienced physical trauma, emotional abuse, or domestic violence. In addition to my clinical work within the mental health field, I am also the Vice President of the National Association of Social Workers, Virginia Chapter.
My therapy style is warm and interactive. I believe in treating everyone with respect, sensitivity, and compassion, and I don't believe in stigmatizing labels. My area of expertise lies in working with couples who are in relationships both traditional and non-traditional. I am versed at working with those in alternative lifestyles seeking an open safe space to explore their nontraditional relationships including polyamory, polyandry and non-monogamy. My approach combines cognitive-behavioral, humanistic, psychodynamic and rational-emotive therapy. I will tailor our dialog and treatment plan to meet your unique and specific needs.
It takes courage to seek a more fulfilling and happier life and to take the first steps towards change. If you are ready to take that step, I am here to support and empower you.
I look forward to working with you!